Broadcasting
---
WhatsApp Broadcasting is a powerful communication feature that allows to send messages, media, and updates to a large audience of WhatsApp contacts simultaneously. It`s a valuable tool for businesses, organizations, and individuals looking to efficiently reach out to multiple recipients at once.
With WhatsApp Broadcasting, you can create a broadcast campaign for a segmented list of contacts (Using Label), ensuring that your messages are sent to specific target groups or all your subscribers. Messages can include text, images, videos, documents, and even links. This feature is perfect for sending announcements, promotions, newsletters, event invitations, and other essential updates to your contacts, providing a convenient and effective way to keep your audience informed and engaged.
To create a WhatsApp Broadcast campaign, follow these steps:
From the dashboard, click on the `Broadcasting` under WhatsApp.
From the WhatsApp Broadcasting page, click on the Create button to create a new broadcast campaign. If you have multiple Bot account, make sure the right WhatsApp bot account is selected from the dropdown list just below the create button.
Give your campaign a name.
There are two options: `24 hours` and `Anytime`. If `24 Hours` is selected, then the campaign will be created for the subscribers who are active, which means they have sent a message to the bot within the last 24 hours. The `Anytime` option will target total number of subscribers of the WhatsApp bot account.
24 hours: You can send any kind of message if the broadcast targets subscribers who have been active within the 24-hour timeframe.
Anytime: When it comes to Anytime, only a `Message Template` (approved by WhatsApp) is allowed to be used as a broadcast message. The Message Template is explained, and instructions on creating them are provided in the Bot Manager section of this documentation.
Next are the `Include label ids` and `Exclude label ids`. By adding a label or multiple labels in the `Include label ids`, you can refine the targeting to include only those subscribers.
Adding a label or multiple labels in the `Exclude label ids` allows you to exclude specific subscriber segments.
If you select `Anytime` then you will find some extra fields `Select template` and `Sending time`. Select a message template and hit the save button. If you want to schedule the broadcast campaign then select later and select your preferred time and then select the time zone.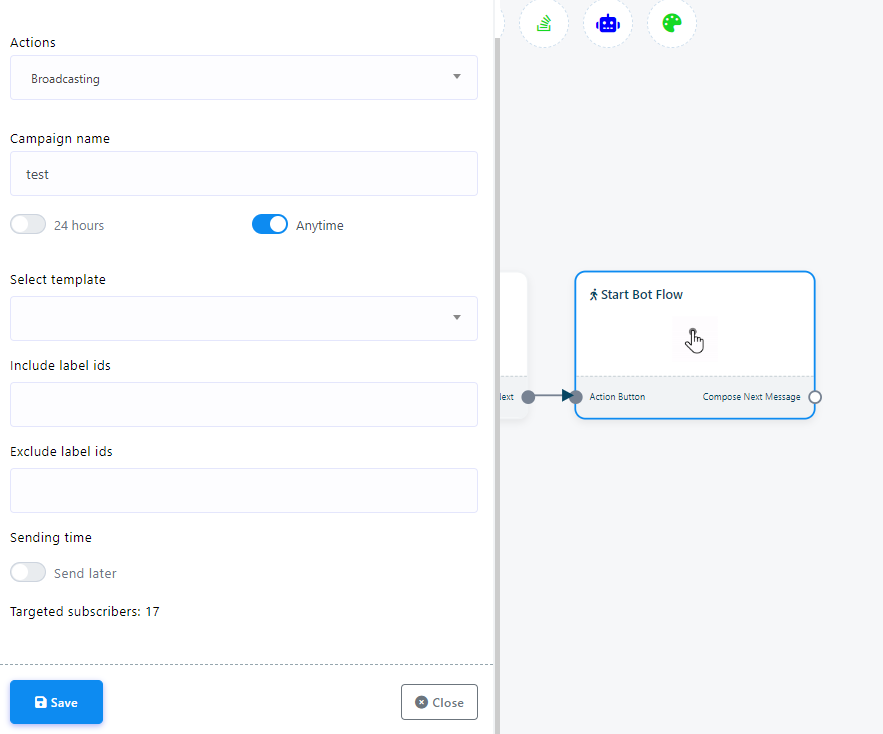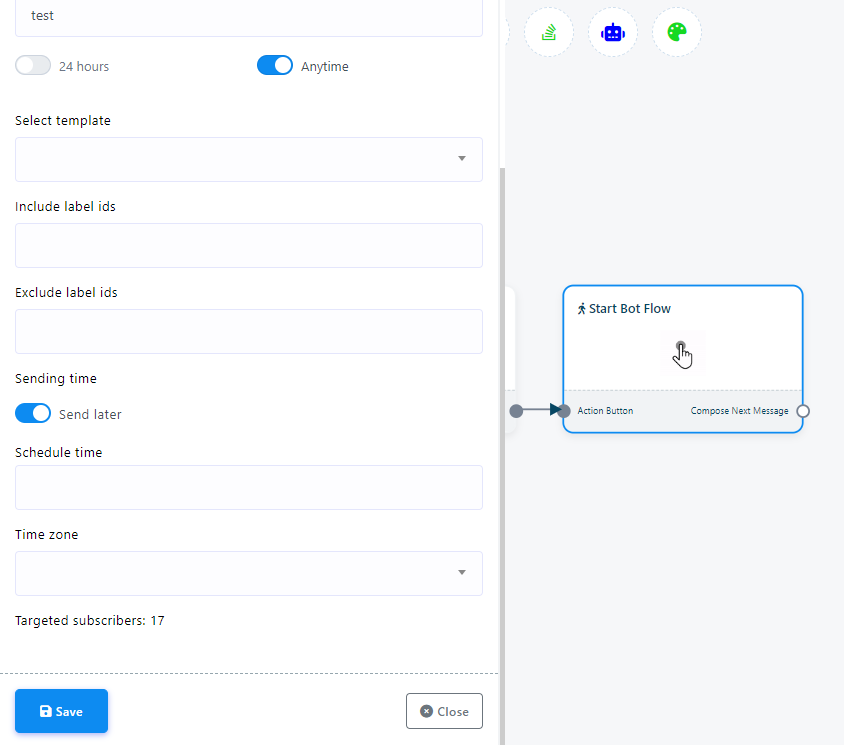 Then double click on the `Start Bot Flow` and give a name for it.
(for 24 hours): Now, add a message with the start bot flow. It can be anything, whether it`s text, multimedia, interactive with buttons, or even an e- commerce message. You have the freedom to include virtually anything in the broadcast message.
Finally, save the bot flow by clicking on the "Save" button on the Visual Flow Builder. The campaign will be created right after hitting the `Save` button.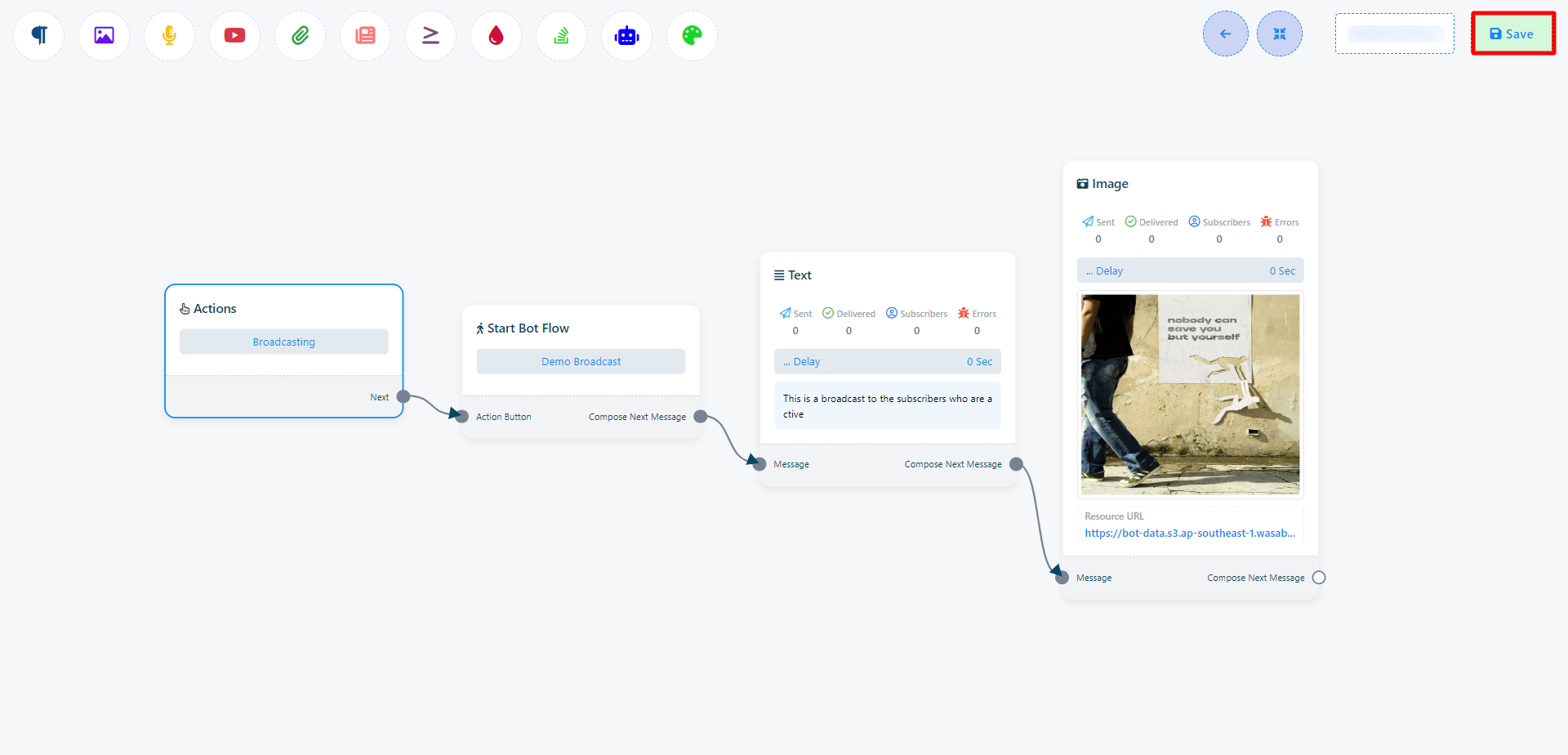 You can track the progress of your broadcast campaign on the WhatsApp Broadcast page.